Aaahhh yes, the illusive Inbox Zero.
It's such a mythical beast that most people are sure it doesn't exist at all.
But I'm here to tell you it does exist, and how I find it at the end of every work day.
Oh, and I do it without spending the entire day in my inbox, and without forgetting to follow up with people.
Mythical indeed, is it? Here's how it's done.
1. Your inbox is not your to-do list.
Do you ever find yourself leaving emails in your inbox to remind you to do something later? Yeah, me too. At last I used to.
The problem with this mentality is that new emails will come in and bury the old ones, and before you know it, you a) forgot to do that thing and 2) your inbox is a hot mess.
So instead of leaving my to-do items in my inbox, I started making a list for myself.
I like to use Asana, which is a free project management tool. You can create tasks within it and set due dates, and if you get the app for your phone it will even send notifications to you when the due date for the task is approaching.
When I have something come through my inbox that has an associated to-do task, I add it to Asana with a due date and archive the email. Done! That's a few emails taken care of.
2. Unsubscribe From Those Random Newsletters….Or Read Them
Newsletters can create a lot of clutter in your inbox. If it's been months since you've opened newsletters from a particular company, it's high time you unsubscribed.
Keep the ones you actually want to read, and unsubscribe from the rest.
What I like to do is leave a couple in my inbox that come in throughout the day and read them while I take short breaks. Most newsletters take maybe 5 or so minutes to read, so it provides a nice mental break from whatever I've been doing.
Once I'm done reading it, I archive it.
Boom! That's another few emails gone.
3. Set Up Email Times
Unless I'm expecting an email from someone or I know something is going to need a quick response, I generally don't spend too much time in my inbox.
I usually answer emails once in the morning, once around mid-day, and at the end of the day.
I might go in every once in a while if I need a mental break from whatever I'm working on, but that's usually not too often.
At the end of the day, I make sure every email that's left in my inbox (that's not a newsletter) gets a response. Once the response is sent, I archive the message.
But what if you need to follow up with one of those emails later? How do you remember to do that without leaving the email in your inbox?
Wouldn't it be annoying to create a to-do task for every single followup you needed to make?
Why, yes, yes it would! Here's how I make sure I followup with everyone.
4. Boomerang for Gmail
I heard about this nifty little tool on the Social Media's, and it's forever changed my email inbox.
What it does is allow you to set a reminder on an email so that you can archive an email, but have it be brought back into your inbox at set intervals.
Kinda vague, but let me explain.
Let's say I have a lead email me. I send them my amazing 'hello!' email, but obviously I know it's unlikely I'll get a response within 5 minutes of sending it.
But I also don't want the email to sit in my inbox taking up space and creating clutter while I wait for a couple days to follow up.
So instead, I set a boomerang up so that if I don't get a reply within a certain amount of time (usually I follow up in 2-day increments), the email gets returned to my inbox for me.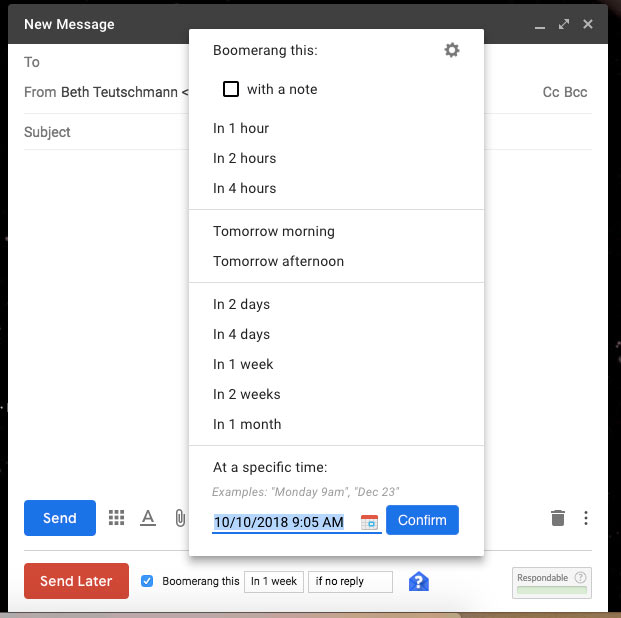 The email comes back…like a boomerang…get it!?
This allows me to archive emails once I've sent a response, but still make sure I follow up with people in a timely manner.
It's been absolutely critical in helping me keep a clutter-free inbox because I used to just leave those emails in my main inbox until I got a response (or until I considered the lead was dead and archived it).
You can even leave internal notes on emails as well, which is super nice.
Now, this tool isn't free, but it's not going to break the bank either. At the time of writing this blog post, I pay $5.99/month.
To me, it's totally worth it to have a clutter-free inbox and to know that I don't have to worry about remembering to follow up with leads.
If you use gmail to manage your email, I highly recommend it and you can check it out more here.
That's not an affiliate link or anything, I don't get anything for posting it. I just absolutely love this little tool.
Go Forth And Conquer Your Inbox
Now go forth, young grasshopper, and conquer thine inbox!
And if you found this post helpful, share it with someone who you think could use some help getting to Inbox Zero!